INSIDE THE MIND OF THINK PROGRESS
Imagine a political activity committee (the Right to Rise PAC supporting Jeb Bush) that wants to produce a mailer to Iowa voters touting their candidate.
Imagine that these poor imbeciles have zero photos of the candidate for whom they have banked over 100 million dollars. Just imagine they are too stupid to go online and look at any of the numerous tweets the Jeb Bush campaign itself has put out to the public. Or any of the photos that Bush fans have tweeted or facebooked. They are beside themselves with despair. How oh how can they produce this mailing with no Jeb photo?
Now imagine someone at the PAC finds a photo, but it only has a head of Jeb. Drats! Oh, wait, another staffer finds a hand! It's slowly coming together, but they search and search and cannot for the life of themselves find a full-body photo of Jeb.
With time running out, they desperately find a photo of a black man. "That will work!" they cheer. "We only need to photoshop the head and hand of Jeb that we've found onto the black guy! No one will be the wiser!"
In a frenzy, they turn the black man into Jeb. But since they are supremely stupid, they do not notice that they have failed to cover up the black man's other hand. Oopsie! It gets left in the photoshopped cutout of Jeb.
No time to waste, they rush to slap the photoshopped black-hand Jeb onto a picture of an Iowa cityscape and hurriedly snail mail their pamphlet to over 86,000 Iowans. High fives all around at Right to Rise. "Yes!" they shout, and then shut off their phones and go for dinner and drinks.
THE DIGITAL MANIFESTATION OF THINK PROGRESS' HALLUCINATIONS
Now here's where the clever villains of our story come in. ThinkProgress—the master left-wing propaganda think tank that gives the mainstream media their daily marching orders, complete with talking points, graphs and other handy resources—sees the mailer go out and their beady little race-obsessed eyes immediately spot the dastardly deception.
In a fevered frenzy, ThinkProgress' Judd Legum hastily types up a damning news alert:
Jeb Bush Super PAC Sends Mailer To 86,000 Iowans With Jeb's Head On A Black Body. Oh my!
A closer examination, however, shows that the flier features Jeb's head on a black man's body. In the flier, one of Jeb's hands appears to belong to a black man.
Here's the picture they included as the sum total of their research that serves as complete proof of their ThinkProgress investigation.
There's no mention of attempting to contact the Right to Rise PAC for confirmation or the Jeb campaign.
At the moment of this writing, the investigative news has been shared on Facebook 11,406 times and Tweeted 2,881 times. That does not include the retweeting of ThinkProgress' multiple tweets of the story.
THE HANDING OFF TO THE MEDIA FLOCK
It didn't take long before other foolishly renowned news organizations took this gospel truth of Jeb's black body, and feverishly typed up their own stories. "Hurry! There's clickbait to be had!" the cry went out across the mainstream media. "It's too good to check! Just run it!!"
Time magazine was an early entry into the click bonanza, with whiz kid Zeke Miller's story titled: Jeb Bush's Super PAC Has a Bad Photoshop Moment.
Jeb Bush has fallen victim to what appears to be the first Photoshop fail of the 2016 campaign….

Right to Rise USA tweeted a picture of the inaugural mailing, which appears to show Bush posing in front of a bridge in what appears to be Cedar Rapids, the second largest city in Iowa.

But a closer look at the photo seems to show that Bush was actually superimposed on a a stock image of the city, while his left hand appears to belong to someone else.

Federal Election Commission could be partly to blame. The FEC bars coordination between a super PAC and a campaign, so if Right to Rise wanted a photo of Bush in Iowa, they couldn't just ask for it.
Again there's no questioning the absolute idiocy of finding a random black man's body and pasting a famous, white Presidential candidate's face and hand on it. Miller makes no mention of attempting to verify what he is reporting. (And why should he? After all, it's been reported by the vaunted Think Progress. In media circles, what they say is truth, even if it's false.)
Miller also sent out a fabulously snarky little tweet to promote his piece of fine reporting:
um… photoshop much? https://t.co/1x2vYRMFSO pic.twitter.com/PpLsODFolz

— Zeke Miller (@ZekeJMiller) August 21, 2015
Have you, dear reader, begun to suspect that something is amiss with this story? It's easy to be gullible when you so desperately want to believe something. Let's see who else did not bother to question the narrative. I don't want to bore you with repetition, so here's just a sampling.
The winner of the "Absolute Insanity" reporting prize goes to New York Magazine and their bonkers Chas Danner, taking liberties with already questionable facts: SuperPAC Gives Jeb Bush a Black Hand in Recent Mailer [Note: Bold print added to highlight some particularly amusing texts.]
A flyer put out by the Jeb Bush-supporting SuperPAC Right to Rise USA got a little overzealous promoting the candidate's diverse appeal this week. The mailer, which R2RUSA sent to 86,000 Iowans, was attempting to answer the essential question, "Why Jeb?" and featured the smiling candidate standing with his hands on his hips — except one of the hands definitely wasn't his, or white:
"Definitely wasn't his." "Definitely wasn't…white." Danner knows this information that he is passing on to his loyal readers for an absolute fact. He is definite. Can't get any surer than that. But Danner isn't done. Let's watch him descend into the pits of crazytown:
And if you look at his other (right) hand, you can see that it was digitally colored white as well, as the awkward supposed shadows are the same color as the black hand. This is clearly what happens when, even in a post-Citizen's United world, candidates aren't allowed to coordinate heavily enough with their SuperPACs and the poor SuperPACs have to hit the stock images and rely on some communications intern to figure out how to Photoshop their white Republican candidate's smaller head on a larger black man's body. Poor Jeb, even his supporters think he needs a better body to win.
We haven't seen such bad Photoshop analysis since the days of the media trying to prove Anthony Weiner's "bulge" photo tweet wasn't really Weiner's. According to Danner's expert photo analysis, the "awkward supposed shadows" match up! It must be a fake!
But Danner goes one further. It wasn't a white hand photoshopped on top of a black hand, with "awkward supposed shadows" added. No, Danner droolingly believes that the Right to Rise PAC went so far as to digitally bleach a black man's hand.
Most hilariously, after dutifully bashing the Citizen's United Supreme Court decision, Danner attacks the size of Jeb's head. It's too small for a big black body! he says. And that body, lawdy, lawdy, the black man's body is a "better body" than Jeb's. Oh, Chas.
On the other hand, our liberal friends across the pond at The Guardian ('Why, Jeb?' Pro-Bush Iowa pamphlet gives candidate one black hand, by Alan Yuhas) proclaimed Jeb!'s head to be much too large. In fact, the entire photoshop collage disturbed them, getting in some snarky digs:
Closer inspection of the mail, which was sent out by Right to Rise USA, prompted further questions. What, for instance, is going on with the perspective? The leaflet shows Bush with a giant head, a political Godzilla to scale with city hall. Why does Bush appear to hover somewhere over the Cedar River, neither level with the shrubbery nor in any clear relation to the water? Is he supposed to be floating, messianically, over the waves? Is he somewhere else, standing in the blue ether with his name? More mundane explanations are also possible. Perhaps Right to Rise knew that Bush has never grinned with hands akimbo in the center of Cedar Rapids, and a staffer therefore superimposed him awkwardly on to an easily found stock photo of Iowa's second-largest city. Following that notion, other questions arise. Why does Bush's shirt appear to glow in florescent tints of turquoise and purple? Is he making a statement as the candidate for bioluminescent conservatives? And what's with the question itself? It seems to cry out for a comma that would turn the two words into an expression of Americans' apparent exhaustion with political dynasties: "Why, Jeb?" Clearly, the Super Pac meant "why Jeb?" in the sense of "why should Iowans vote for Jeb?". But the image and and text have no real context. This could be an ad for almost anything. "Jeb" might be the name of a new cholesterol medicine; the bespectacled man in the distracting shirt could be the doctor you should consult before asking whether Jeb is right for you. Then there's that hand. It is several skin tones darker than any tan a son of George HW and Barbara Bush has ever managed – and much darker than the skin of man who once registered himself to vote as Hispanic and then tweeted: "My mistake! Don't think I've fooled anyone!" The leaflet and its many questions are not directly attributable to the Bush campaign – under federal law, Super Pacs are not allowed to co-ordinate with candidates. But it is doubtful it fooled anybody either. No mailer is going to introduce the son of one former president and the brother of another as a new political force. Millions of dollars cannot do the work of one good Photoshopper. Jeb Bush is still white. Right to Rise USA did not immediately respond to a query about what happened to Bush's left hand.
At least Yuhas did not fall prey to reporting with no facts in evidence that it's a Godzilla Bush head on a black man's body. At least he mentions that he attempted to contact Right to Rise for information.
JEB'S FLAT FEET GET CROPPED OUT OF PHOTO
I know my readers would have caught the obviously absurd premises of the Think Progress story that started it all. At the time, I tweeted:
This is utterly, ridiculously, imbecilicly wrong. @thinkprogress has lost their minds https://t.co/Plfj6sqIjl — Prudence Paine (@PruPaine) August 22, 2015
The entire imagined scenario at the top of this story did not happen. That is not the body of a black man with a tiny or giant Jeb head on it. It is Jeb with his own head, his own dad bod and his own two white hands.
One thing that the photoshop story does reveal if you look closely is the enormous flat feet on Jeb. His people let this story gain a head of steam with zero rebuttal until almost a whole day went by. Major publications put the story out, and as of this writing, none of the ones mentioned above have updated their story to correction the information.
This would have been a perfect opportunity for the Bush campaign, their PAC and the GOP to mercilessly mock Think Progress and the mainstream media for creating such a ludicrous story. But no. They seem to be content to let it appear to be the truth.
They have apparently not insisted that any of these news organizations should issue corrections and apologies for these stories. The uncorrected ridiculous stories continue to be read and shared on Twitter and Facebook, for all to laugh at a fevered dream being pushed as fact. Tens of thousands have seen it and believed it to be true. Even on the right. Search Twitter and you'll see it's bipartisan mockery of an absurdity they accept as real.
I had to dig around to find a publication that was reporting the truth of the story. Wouldn't you know, it was a British paper, the Daily Mail (Jeb Bush super PAC admits to Photoshop 'fail' in mailer to 86,000 Iowans after one of candidate's hands appeared to be someone else's) and their reporter Christopher Brennan, that did actual reporting to give some accurate information. [CBS's Reena Flores also did a story showing the real photo (Jeb Bush super PAC denies Photoshop mishap claim).]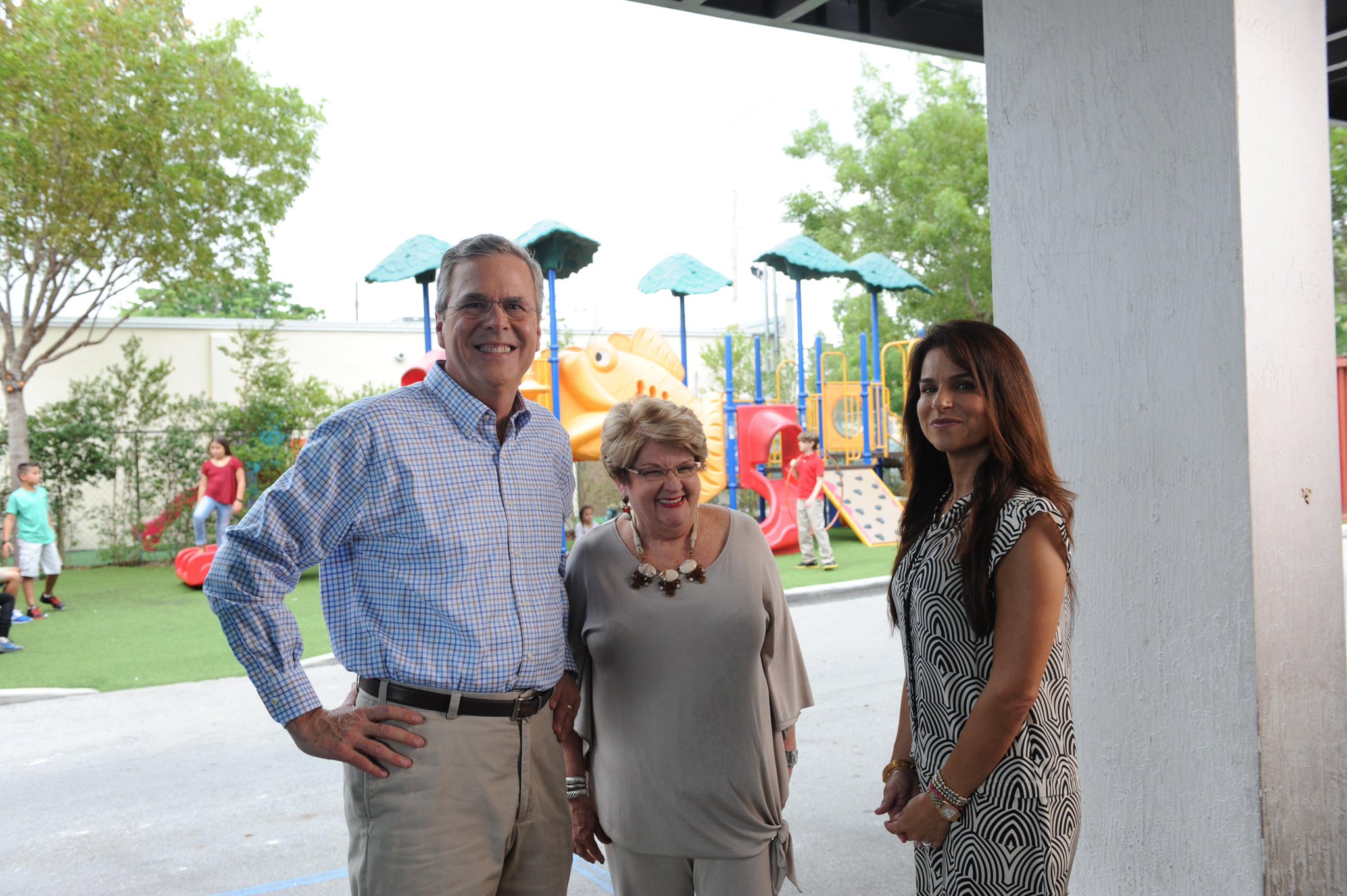 However, Bush had previously been seen wearing the same shirt as the one on the mailer on various occasions.

In response to the allegation Saturday afternoon, Right to Rise spokesman Paul Lindsay directed Daily Mail to a tweet showing the original photo of Bush.

The darkened hand appeared to be caused by a shadow cast from a woman next to the candidate.
But, as you can tell from the headline, even their story spun the photo as a "Photoshop fail." It wasn't a fail. Perhaps it could have been better, but it's highly unlikely any of the 86,000 people receiving the mailer thought twice about his shadowy hand, let alone even noticed it.
The permission to label it a fail came from the Right to Rise PAC's spokesman. In a staccato, rather cryptic tweet, he himself called it a "Fail."
Mysterious hand revealed. Meant to use Valencia. Fail. Not deleting it from our servers. pic.twitter.com/sczIMf1REx

— Paul Lindsay (@Paul_Lindsay) August 22, 2015
Instead of tweeting the rebuttal directly to reporters writing up silly stories on it, instead of mocking Think Progress' lunacy in his response, he tweets "Mysterious hand revealed. Meant to use Valencia. Fail. Not deleting it from our servers."
Who or what is Valencia? Was Valencia supposed to be used in place of or in addition to Jeb? Why is he taking the defensive posture of "not deleting it from our servers"? Is this a bad joke using a Hillary reference? Or was someone suggesting they delete it to prevent people from seeing the mailer? What are reporters supposed to do in trying to quote this weirdness in their stories?
Searching Paul Lindsay's twitter account, it seems he did tweet the photo to Mark Hemingway and Olivia Nuzzi, but not to mainstream or left-wing media. Sadly, the Right to Rise twitter account hasn't bothered to tweet anything about it.
The frustrating thing for me, an avid opponent of Jeb's candidacy, is to see such a hideous PR response by a candidate many of us fear will be forced down our throats once he unleashes his hundred million dollars to attack the candidates we prefer. Is this the kind of plodding, flat-footed, half-hearted response we can expect if he becomes a general election nominee? Is the management of this incredibly idiotic falsehood symbolic of the asleep-at-the-wheel candidacy of Jeb Bush?
In the meantime, by being so flat-footed, by taking until the next day to even bother to try to counter the narrative that had now gained international root, it was Donald Trump who got the last laugh. He tweeted the unrebutted story and got over 5,000 retweets and favorites: 
Jeb Bush has a photoshopped photo for an ad which gives him a black left hand and much different looking body. Jeb just can't get it right! — Donald J. Trump (@realDonaldTrump) August 22, 2015